Starlight Blues
Blues Dancing Under the Stars in Pittsburgh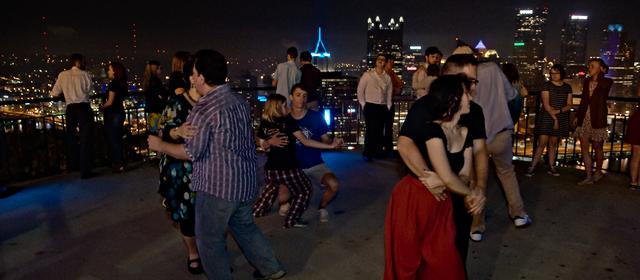 | | |
| --- | --- |
| Typically Saturday late-nights (early Sunday) starting at about 12:20am, weather permitting. | Grandview Overlook, opposite Saint Mary of the Mount Church (403 Grand­view Ave, Pittsburgh PA 15211). |
[2019-09-07] Join us following the Red Beans and Rice Combo performance at Swing City.
Why do we do this? We love to dance! Many of us head up to the over­look on Mt. Wash­ing­ton for free DJed music follow­ing Swing City in Squir­rel Hill because three hours of dancing is not enough. Want to be sure never to miss a dance? See below — Face­book is not a re­liable way to hear about these late nights.
Being outdoors in public at a popular viewpoint (part of Pittsburgh's Eme­rald View Park), we see all kinds of inter­est­ing people come by: hula-hoop­ers, fire-spin­ners, bach­elor­ette par­ties, formal wed­ding photo­graphy shoots, and more. Some even join in the dancing!
When Is a Dance Ann­ounc­ed?
Since this is an outdoor dance, the de­cis­ion whe­ther to actually hold it is based on the weath­er fore­cast for Mount Wash­ing­ton as of the morn­ing before the dance (gen­er­ally: at least 60°F and less than 20% chance of pre­cip­ita­tion). We'll then up­date the status of a plan­ned dance from "ten­tative" to either "con­firmed" or "cancelled".
Getting Notifications:
You can ask to be added to the mail­ing list by send­ing email to starlightbluespgh@gmail.com.
You will receive an email the morn­ing of a plan­ned dance if it has been confirmed.
You can subscribe to the RSS feed in your fav­orite news reader.
You can add the Starlight Blues schedule to your own Google Calendar, Apple Calendar, Outlook, or other iCal-compat­ible cal­endar by past­ing the follow­ing cal­endar address into the appro­priate "sub­scribe to cal­endar", "add other cal­endars", or "Other Calendars: Add by URL" (Google) form:


g47d0q0auupbngid5e620picps@group.calendar.google.com

Or, you can return to this page and check the agenda (click on an event to toggle details).
Do not rely on Facebook to be notified of dances! Only about a third of them wind up being listed on the HMB or Swing City pages.
Getting There
From Swing City: Take Murray Ave­nue down the hill. Get on I-376 West and follow signs to the Liberty Bridge. Cross the bridge, and turn right at the sig­nal on the far side (don't enter the tun­nel). At the top of Mount Wash­ing­ton, PJ Mc­Ardle Road­way makes a sharp left to an inter­sect­ion. Turn left at the inter­sect­ion and go 1.5 blocks. If you reach the stop sign, you overshot by 50 feet.
If Blvd of the Allies is closed: Con­tinue on I-376 to the Grant Street exit. Use the right-hand lane to get on Grant Street. At the third sig­nal (a com­plex six-way inter­section), turn right onto the in­clined ramp, and then turn right onto the Lib­erty Bridge.
From Lindy Lot (Glenshaw): Head south on PA-8 towards Pitts­burgh, then take PA-28S and I-579S (Vet­eran's Bridge) to the Lib­erty Bridge. Con­tinue as above.
From Downtown: Take Boul­evard of the Allies east-bound (away from The Point) across Grant Street. Go up the in­clined ramp and turn right onto the Lib­erty Bridge. Cross the bridge, and turn right at the sig­nal on the far side (don't enter the tun­nel). At the top of PJ Mc­Ardle, turn left onto Grand­view Ave­nue and go 1.5 blocks.
From Downtown (alt): Cross the Smith­field Street Bridge to­ward Sta­tion Sq­uare. Turn left onto Car­son Street at the traf­fic light, then turn right at the fol­low­ing light and turn right again just after the under­pass. Take East Syc­amore Street up the side of Mount Wash­ing­ton and turn right at the inter­sect­ion (you'll be fac­ing a Do Not Enter sign). Fol­low the street around the 90-degree left bend to the brightly lit church.
From Elsewhere: Click on the map to acc­ess Goo­gle's dir­ections.
Note that the Thomas J. Gallagher Overlook (its off­icial name, after a former mayor) is just a con­crete plat­form — it has no facili­ties of any kind, nor are there any nearby. Please pre­pare acc­ord­ingly.
What is Blues Dancing?
Contemporary Blues dance has roots in African tribal rhythms, combined with modern tech­niques. "Blues-idiom" danc­ing is a fam­ily of dances and move­ments done to blues music which share com­mon features of
groundedness and athletic posture
lagging behind the music
a music-based pulse in the dancers' bodies and steps
high levels of improvisation
Blues styles include "Jookin'" (Juke Joint Blues), "Ballroomin'" ([Harlem] Ballroom Blues), "Struttin'", "Slow Drag", "Drag Blues", and more.

For more Blues dancing, come to Hot Metal Blues on Tuesday nights 8pm-midnight at Lot 17 (4617 Liberty Avenue, Bloomfield, Pittsburgh 15224).

Latest: August 18th, 2017, September 16th, 2017.
---
Privacy Policy: This site uses Google's calendar and map­ping services, which are covered by Google's pri­vacy policy. The calendar and map may set cookies, but StarlightBlues.com itself does not use cookies. The web server main­tains standard access logs that record which com­puter accessed which page(s) on this site. Unless you sign up for email noti­fica­tions, we do not col­lect any person­ally-ident­ifiable infor­mation. Your email address will be used solely to inform you of up­coming dances and will not be shared with third parties.