Starlight Blues
Blues Dancing Under the Stars in Pittsburgh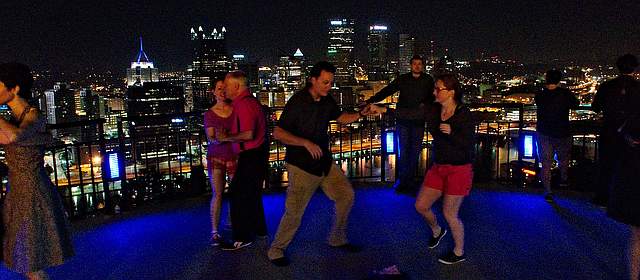 | | |
| --- | --- |
| Typically Saturday late-nights (early Sunday) starting at about 12:20am, weather permitting. | Grandview Overlook, opposite Saint Mary of the Mount Church (403 Grand­view Ave, Pittsburgh PA 15211). |
Why do we do this? We love to dance! Many of us head up to the overlook following Swing City in Squirrel Hill because three hours of dancing is not enough.
Being out in public at a popular viewpoint (part of Pittsburgh's Emerald View Park), we see all kinds of interesting people come by: hula-hoopers, fire-spinners, bachelorette parties, formal wedding photo­graphy shoots, and more. Some even join in the dancing!
Dance tonight (3/25) after Swing City! Bring a jacket, temperatures will be dropping through 60 while we're on the mountain.
When Is a Dance Ann­ounced?
Since the dance is out­doors, the de­cision whether to actually hold it is based on the weather fore­cast for Mount Wash­ington as of the morn­ing before the dance (gen­er­ally: at least 60°F and less than 20% chance of pre­cip­ita­tion). We'll then update the status of a planned dance from "ten­tative" to either "con­firmed" or "cancelled".
Getting Notifications:
You can ask to be added to the mailing list by sending email to starlightbluespgh@gmail.com.
You will receive an email the morning of a planned dance if it has been confirmed.
You can subscribe to the RSS feed in your favorite news reader.
You can add the Starlight Blues schedule to your own Google Calendar, Apple Calendar, Outlook, or other iCal-compatible calendar by pasting the following calendar address into the appropriate "subscribe to calendar" or "add other calendars" form:


g47d0q0auupbngid5e620picps@group.calendar.google.com

Or, you can return to this page and check the agenda (click on an event to toggle details).
Getting There
From Swing City: Take Murray Ave­nue down the hill. Get on I-376 West and follow signs to the Liberty Bridge. Cross the bridge, and turn right at the signal on the far side (don't enter the tunnel). At the top of Mount Wash­ing­ton, PJ Mc­Ardle Road­way makes a sharp left to an inter­section. Turn left at the inter­section and go 1.5 blocks. If you reach the stop sign, you overshot by 50 feet.
From Absolute Ball­room: Take Fifth Avenue to Oakland. Past the Cathe­dral of Learn­ing, follow the signs for I-579 to get on Boule­vard of the Allies, then follow the signs to the Liberty Bridge and continue as above.
From Downtown: (or if the Liberty Bridge is closed) Cross the Smith­field Street Bridge toward Station Square. Turn left onto Carson Street at the traffic light, then turn right at the fol­low­ing light and turn right again just after the under­pass. Take East Syc­amore Street up the side of Mount Wash­ington and turn right at the inter­section (you'll be facing a Do Not Enter sign). Follow the street around the 90-degree left bend to the brightly lit church.
From Elsewhere: Click "View larger map" to access Google's directions.
Note that the overlook is just a platform — it has no facilities of any kind, nor are there any nearby. Please prepare accordingly.
What is Blues Dancing?
Contemporary Blues dance has roots in African tribal rhythms, combined with modern techniques. "Blues-idiom" dancing is a family of dances and movements done to blues music which share common features of
groundedness and athletic posture
lagging behind the music
a music-based pulse in the dancers' bodies and steps
high levels of improvisation
Blues styles include "Jookin'", "Ballroomin'", "Struttin'", "Slow Drag", "Drag Blues", and more.
For more Blues dancing, come to Peter's Pub in Oakland for Hot Metal Blues every Tuesday. No cover, free lesson from 8-9pm.
---
Privacy: This site uses Google calendar and mapping services, which are covered by Google's privacy policy. Unless you sign up for email notifications, we do not collect any personally-identifiable information. Your email address will be used solely to inform you of upcoming dances.